photo credit: ME!
So... if you haven't experienced a Jazz game courtside, I recommend adding it to your bucket list. My life has now been fulfilled.
I have never been much of a Jazz fan. In fact I think they might have coined the phrase "fair weather fan" after my own beating heart. For example: remember in 97'-98'ish when the Jazz and the Bulls were in the finals?? And every TV in the SLC valley and beyond was glued to "
Stockton to Malone"
(Ok, and probably on Jordon and Pippin also). I certainly do. I think that was the peak of my fair weather fanaticism.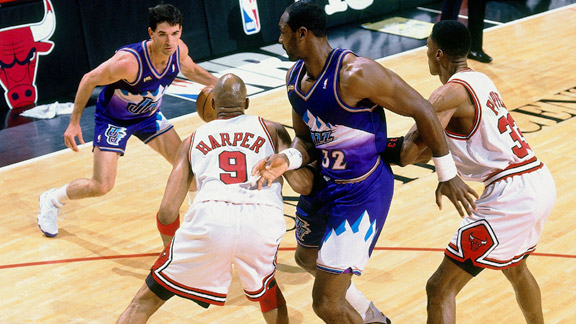 Never should have gotten rid of those shorts...
Now that you have pulled out your jean jackets, Keds, overalls, and knee high sock memories associated with the mid 90's, imagine me, this giant 12 year old prepubescent with googly eyes drooling all over Hornacek and his three face stroke signature free throw move day after day of the playoffs.
No I didn't think HE was hot, ew, I thought his free throwing was...
Following this fixation I was spurred into a year long fantasy with basketball where I would go to the neighbors and practice my free throws for months and months at a time.
I never got better.
After the Jazz lost again in the 6th game in 98', my hopes were dashed, my love was smothered and I resumed my adoration for volleyball. As was befitting.
Ahem. Sorry for the tangent down memory lane but an appropriate back history will help in this discussion.
Like, I was saying,
now I can die.
On Saturday evening I had the delicious opportunity to view the Jazz vs Clippers game via courtside seats for a double overtime win by 2.
My mind was blown. Like
Sufjan
blown but bigger.
Here I was, on an extreme low in my Jazz fan-dom when I suddenly and abruptly was placed a mere 6 inches from D-Will's backside. And Millsaps, and big Al and even the
Neanderthal looking dude from the Clippers
. And quite the bodacious backsides they were. Some could say that they may be sporting the Brutt? (I tried to find a good link to show you what I am talking about but it came up with too many dirty images...don't google it) I even was tempted to add in my thoughts at a time out to Mr. Sloan but considering the closeness of the game I decided to opt out.
Needless to say, the weather is looking fair for my renewed loyalty and I may be watching many a game this season now that I have been able to partake of front row seats at such an anxiety ridden game. Granted the rest will either be nosebleed or on my couch.
Who's with me?